SMART Conference FAQ
Paper Submission
Q
How to submit an Abstract
※If this is your first time submitting an abstract through SMART Conference, please click the URL for abstract submission. 
The URLs would be different for each conference or event.
Regarding the URLs, please contact the executive office or the secretariat of the conference.
1.Click the URL for registration on a conference website to open the page for creating an account.
※If you already have an account, click "Login" at the bottom of the page.
Please refer to here for the flow after logging in.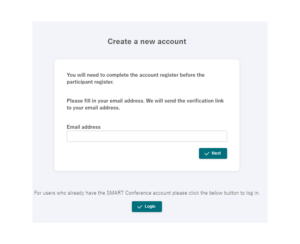 2.Enter your email address and click "Next".
You will receive an email for registration.
If you do not receive an email, click here.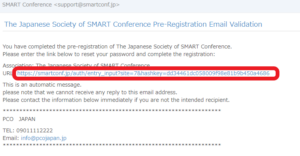 3.Click the URL in the email.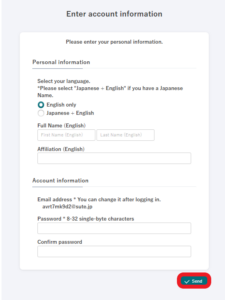 4.Enter the required information and click "Send".
※Please select "Japanese + Engish" if you are Japanese.
※You can edit the registered information later if needed.
5.Comfirmation screen for your account information will appear.
After confirming the information, click "Send".
6.A registration completion message will appear.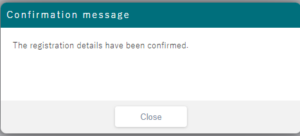 After completing the registration, you will receive an email to notify the completion of creating an account.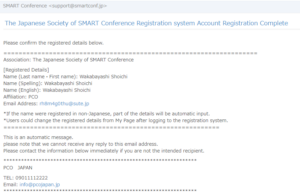 ---
If you cannot receive emails
---
・There is a possibility that it is sorted as spam. Please check your settings.
The email is sent either from "support@smartconf.jp" or a specific email address of the conference.
If you have specific filter settings for domains, please allow emails from "@smartconf.jp".
・There is also a possibility that you may have entered a wrong email address.
Please try again from the account registration URL.
---
7.Click "Papers" on the left menu.
Click "+Submit paper" in the upper right corner of the screen.

8.Please follow the instructions on the screen and enter the information as indicated.
When you are finished, click the "Submit" button on the lower right to submit your abstract.
※Please note that you will not be able to submit your abstract if any of the required fields have not been filled in.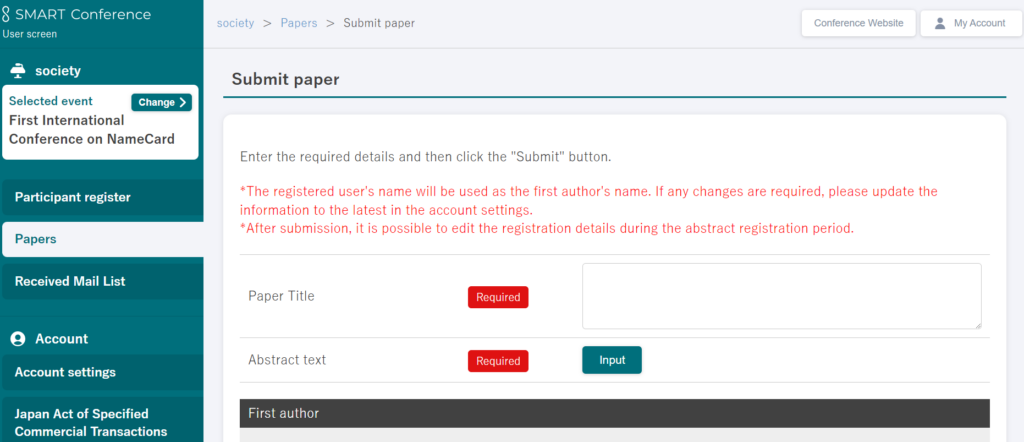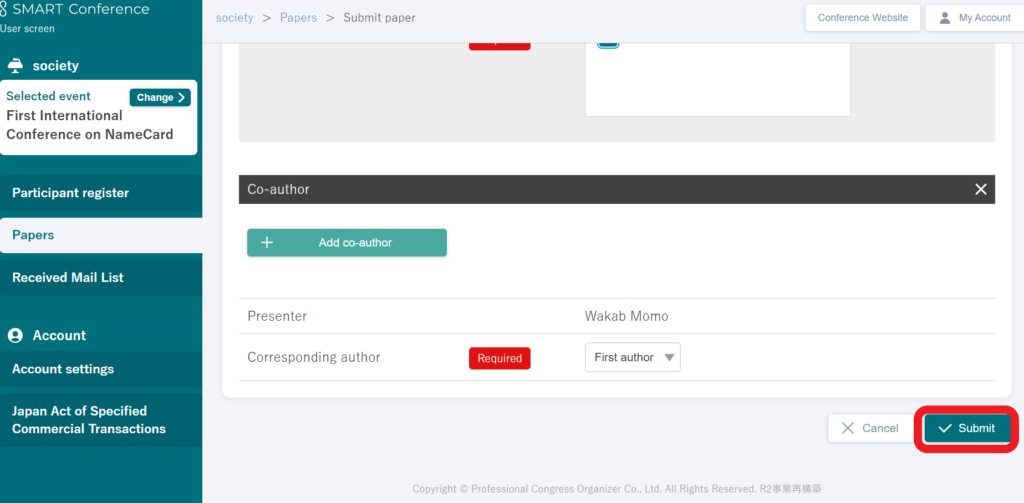 When this confirmation message appears, the submission is complete.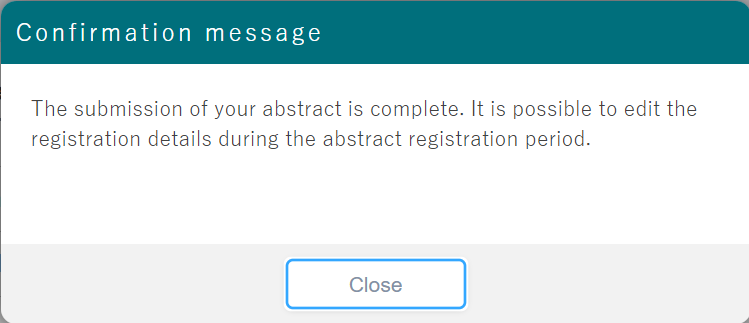 9.After you save your abstract, the screen will display the contents of your saved, so please check the contents of your paper.
To edit the content, click the "Edit" button in the upper right corner.

※The period during which Papers can be edited is the same as the abstract submission period.
Please check the abstract submission period for the conference you are attending, and be sure to make any edits before the deadline.
If you wish to make edits after the deadline has passed, please contact the organizer of the conference you are attending, as it is not possible to do so through the system.
For customers who wish to contact us
Various support services that answer customer questions, such as inquiries about operation methods and inquiries about product introduction.
I will guide you.
Contact